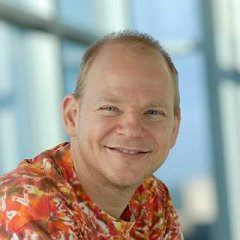 Not registered as user yet
Bio:
Erik Meijer received his Ph.D. from Nijmegen University in 1992. He was an associate professor at Utrecht University. He then became a software architect for Microsoft where he headed the Cloud Programmability Team from 2000 to 2013. He then founded Applied Duality Inc. In 2011 Erik Meijer was appointed part-time professor of Cloud Programming within the Software Engineering Research Group at Delft University of Technology. He is also member of the ACM Queue Editorial Board. In October 2015 Erik Meijer joined the Developer Infra Structure organization at Facebook where he works on leveraging ML to make developers more productive.
Meijer's research has included the areas of functional programming, particularly Haskell, parsing, programming language design, XML, and foreign function interfaces. His work at Microsoft included C#, Visual Basic, LINQ, Volta, and the reactive programming framework (Reactive Extensions) for .NET. In 2009, he was the recipient of the Microsoft Outstanding Technical Leadership Award and in 2007 the Outstanding Technical Achievement Award as a member of the C# team.
Contributions